Executive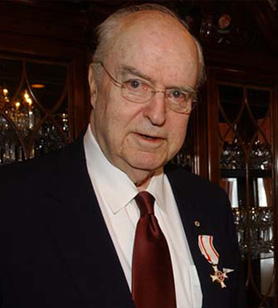 Frederick W. Hill
Past Chairman and Director
The Hill Companies
A former US Air Force bomber pilot and a Harvard University MBA graduate, Frederick Hill joined his father in the family business in 1947. He led the company's growth in real estate development, as well as its diversification into other industries. Mr. Hill's personal commitment to the success of the company was represented by the Hill's philosophy of business: "...as businessmen, if we can't do things that contribute to our world and help people, we have fallen short of our mission." He was a Director of numerous companies and foundations including the Canadian Imperial Bank of Commerce and Ethics & Public Policy Center (Washington, DC). In 1986, he received the Order of Canada. Fred Hill passed away on July 13, 2008 at 87 years of age.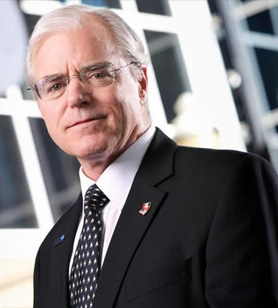 Paul J. Hill
Executive Chairman
The Hill Companies
After graduating from Georgetown University (BSBA '67), Washington, DC and the Richard Ivey School of Business program (MBA '69) and gaining significant experience in the investment banking industry for approximately eight years, Paul J. Hill is the third generation in the Hill family to lead The Hill Companies. His leadership and strategic direction serves as a catalyst to diversify The Hill Companies and the employment base of the province. He was the driving force in structuring the 1991 transaction that led to obtaining the controlling interest in Crown Life and relocating its head office from Toronto to Regina. He subsequently became its Chairman. The Hill Companies now operate in the areas of real estate, insurance, media, oil and gas, and manufacturing. Paul's extensive network within the North American business community facilitates his ability to aggressively seek out unique business opportunities.
He has served on the boards of the Investment Dealers Association, Canada Trust Bank, North Canadian Oils, Shopping.com, Government House Foundation, The Conference Board of Canada, US Forest Products Inc. and as Chairman of Boardwalk Real Estate Investment Trust as well as several other Canadian and US corporations. He is actively involved in public policy through his board participation with The CD Howe Institute, The Fraser Institute, , and The Business Council of Canada. He also serves on the advisory board of the Georgetown University Robert Emmett McDonough School of Business (Washington, DC, USA), The Woodrow Wilson Institute (Washington, DC, USA), the Richard Ivey School of Business (London, ON, CAN) and the University of Regina Paul J. Hill School of Business (Regina, SK, CAN). He established the Hill- Ivey Scholarships as well as the Business Ethics Scholarships and the scholarships for the Catholic Studies program at Campion College (Regina, SK, CAN). He served on the board of the Saskatchewan Roughrider Football Club for over 22 years. Paul is a founding board member of the Asia Pacific Foundation, which focuses on the importance of Canada's cultural and commercial relationships with China and other Asia Pacific countries and he serves on the Canada China Business Council. He is also a board member of the Canada Arizona Business Council and is the current chairman of the board for the Harvard Companies, Western Surety and UFR Urban Forest Recyclers Inc.(Brook, Indiana).
In 2011 and 2012, Paul was awarded an honorary Doctor of Laws degree from the University of Regina and also the University of Western Ontario, in recognition of the positive impact his leadership has made throughout Canada. In 2010, he was entrusted as a Knight of St. Sylvester by Pope Benedict XVI in acknowledgment of his charitable work, and in 2022 was made a board member of the Papal Foundation. He has also received the Canada 125 Medal, the Queen Elizabeth II Golden Jubilee Medal, the Queen Elizabeth Diamond Jubilee Medal, and the Order of Canada (2015) - which is one of the country's highest civilian honours that recognizes outstanding achievement and service to the nation. Paul and Carol have received the CTV Citizens of the Year (2014); Philanthropists of the Year from the Association of Fundraising Professionals, and most recently, were awarded the Queen Elizabeth II Platinum Jubilee Medal in 2022. Paul has received the prestigious recognition of the Saskatchewan Order of Merit and, along with his wife Carol, were named Humanitarians of the Year by the Canadian Red Cross in 2017. The two are also proud sponsors of the annual Distinguished Speaker Series at the Georgetown McDonough School of Business, University of Regina, and Athol Murray College of Notre Dame. Among his many community initiatives, Paul's philanthropic efforts have focused on providing education opportunities for inner-city youth. In 2007, he established the Mother Teresa Middle School of Regina (focused on underprivileged children starting in grades 6, 7 & 8 and continuing for a full eleven years, including high school, post-secondary, and right up to the first job) which is Canada's first Jesuit fostered academy. He also founded 'One Life Makes a Difference', a charitable foundation that focuses on assisting disadvantaged youth.
Mo Bundon, S.O.M
Vice Chairman and Advisor
The Hill Companies
Mo Bundon is results oriented, focused and customer driven. For more than 35 years, he has led a team that is responsive to the ever-changing dynamics of business. His leadership, strategic direction and judgement have been instrumental in continuing The Hill Companies' tradition of growth and prosperity.
Community Involvement
Chairman of the Board of Regents for Athol Murray College of Notre Dame
Co-Founder and Director of One Life Makes A Difference; a charitable foundation created to assist Regina inner-city students with educational opportunities
Instrumental in establishing Mother Teresa Middle School
Former Chairman of the University of Regina Board of Governors
University of Calgary, West Campus Development Trust
Saskatchewan Red Cross, Executive Cabinet
Regina Forum, Mentor/ Coach
Hill Advisory Board and Leaders Council
Awards/Recognition
2015 – Regina Catholic Schools, Director's Award of Excellence
2013 - AFP Philanthropist of the year
2013 - Queen Elizabeth II Diamond Jubilee Medal
2010 - Saskatchewan Order of Merit
2010 - University of Regina, Distinguished Service Award
2009 - Canadian Red Cross Humanitarian Award
2007 - United Way of Regina President's Award
2005 - Sask Sport Inc., President's Citation Award
2004 - Athol Murray College of Notre Dame, Medal of Honour
Rosanne Hill Blaisdell, MBA, C.C.I.M.
President and CEO
Harvard Developments Corporation
Rosanne Hill Blaisdell is the Managing Director & COO of Harvard Developments Corporation., a long-standing full service real estate company headquartered in Regina, Saskatchewan. After working in commercial banking and investment management for a number of years, in 1997, Rosanne as the fourth generation of the Hills, joined the family business. Today, she oversees the Corporate Head Office for The Hill Companies and the company's Canadian real estate operations with portfolio holdings of 10 mil.sq.ft. She is currently leading several mixed-use and transit-oriented development projects, totaling 2.5 mil.sq.ft. in Western Canada.
Rosanne holds an MBA, and a CCIM real estate designation. She is a past Business Advisory Board member for SaskPower and Regina Economic Development. She currently serves on the Regina Exhibition Association Futures Committee and St. Mary's University College Board of Governors. She is a member of NAIOP, the Regina Chamber of Commerce, IWF, YPO and ICSC.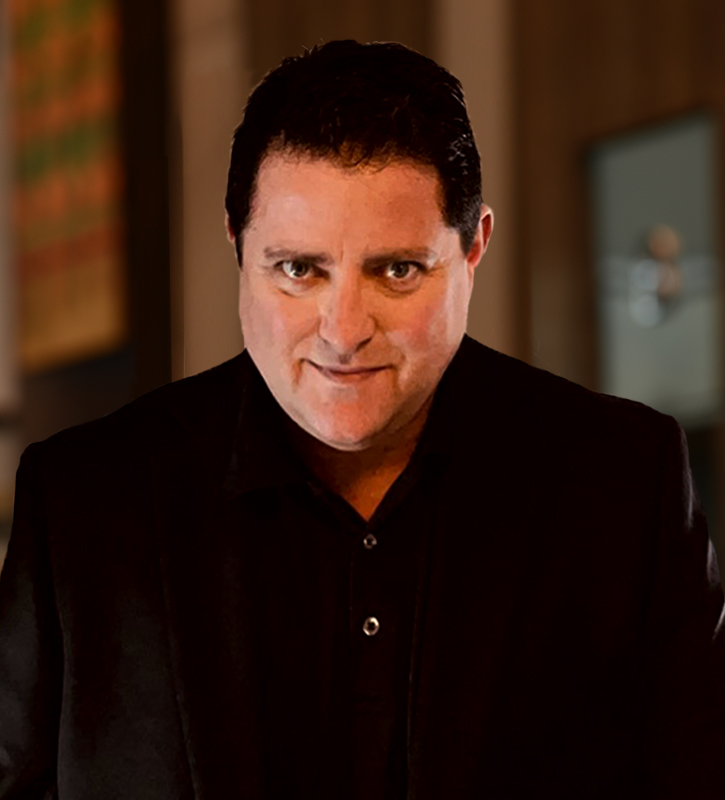 Matthew Hill
President and CEO
Harvard Diversified Holdings
As Managing Director of the Hill Companies, Matthew Hill is responsible for providing oversight to the Hill Companies portfolio of businesses including but not limited to; Western Surety, Harvard Media, Harvard Integrations, Harvard Energy, Harvard Investments, and Harvard Western Insurance.
With over 15 years of Venture Capital and investment experience in the technology industry, Matthew's experience brings unique investment management skills in a changing business environment. During the 1990's, Matthew was one of the original founding investors and employees of Shopping.com which sold in 1999 to Compaq Computer Corp. In the early 2000's, Mr. Hill joined Prime Ventures, a venture capital firm, based in Santa Monica California. Hill served as director of a number of portfolio investments including a role as Chairman of SuperNation, LLC, overseeing its acquisition in 2003 by Myspace, (AMEX: MIX). In 2005, Mr. Hill founded the e-Commerce business Shopit.com. In the early days of Facebook, Shopit quickly became the largest ecommerce app on the Facebook platform with over 800,000 stores. The company was sold in 2009 to Atrinsic, Inc.
Matthew holds a BA from Boston College, an MBA from Pepperdine University, and a Certification in International and Global Finance from the University of Oxford in Oxford, England. Matthew is a member of YPO (Young Presidents Organization) in both Saskatchewan and Alberta, the Harvard Executive Committee, and sits on the boards of both Western Surety and Athol Murray College of Notre Dame.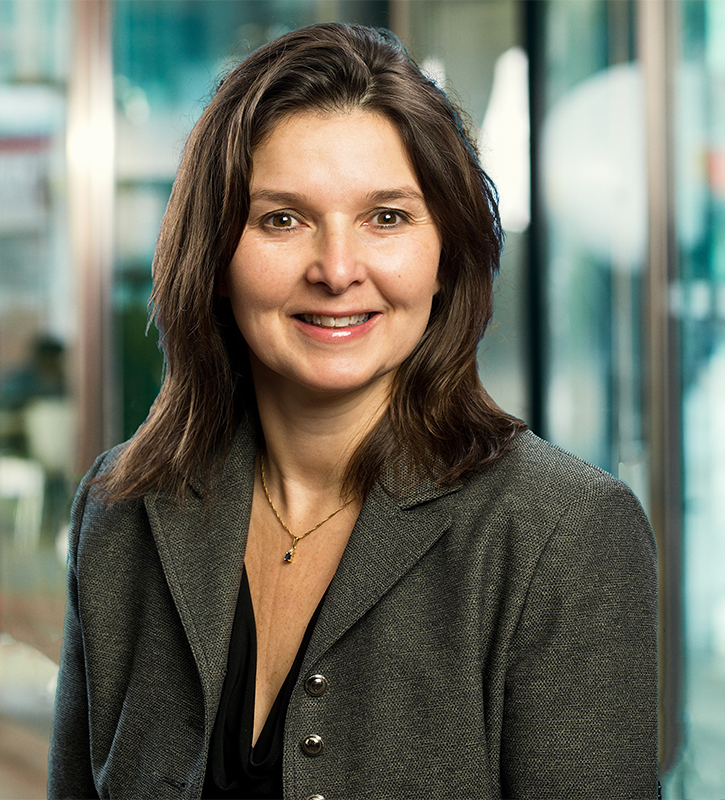 Tina Svedahl
Managing Director, Hill Company Holdings
The Hill Companies
With over 30 years of experience in the real estate industry and more than two decades of progressive leadership with The Hill Companies, Tina provides strategic collaboration, governance oversight, risk management, and operational leadership to The Hill Companies' diverse business interests. These include real estate, broadcasting, manufacturing, and insurance sectors. She also leads all mergers and acquisitions for the various businesses.
In 2004, she was appointed Vice President, Investments with Harvard Developments and on January 2021, was named Managing Director of The Hill Companies Diversified Holdings, becoming the newest member of the Hill Companies Executive Committee.
Tina is a Chartered Professional Accountant (CPA, CMA) and holds the Institute of Corporate Directors' Designation (ICD.D).
Tina currently serves on the Board of Directors of Economic Development Regina (EDR), The Globe Theatre, SaskEnergy, Harvard Western Insurance, and One Life Makes a Difference Foundation.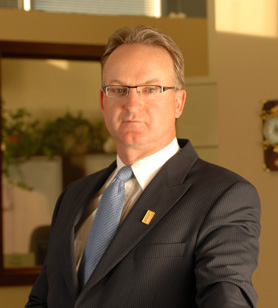 Scott Donald
President and CEO
Western Surety Company
Scott, who has been employed in the surety industry since 1981, joined Western Surety in 1987 as a Senior Underwriter. He was promoted to Assistant General Manager in 1994 and Underwriting Manager in 2001.
On January 1, 2008, Scott was promoted to President and Chief Operating Officer. The latter position was eliminated at December 31, 2010 and Scott was promoted to Chief Executive Officer on January 1, 2011. He has also served on the Western Surety Company Board of Directors since January 1, 2008.
Scott attended SIAST and the University of Regina and earned his Certified Management Accountant designation in 1988. In 2005, he completed an extensive Executive Upgrade program at the Ivey Business School at the University of Western Ontario.
In 2013, Scott's career was acknowledged by the Society of Management Accountants of Saskatchewan as he was the recipient of the annual "Career Recognition" award.
Craig Krumwiede
President
Harvard Investments Inc.
Serving as President of Harvard Investments, Craig actively oversees the acquisition, development and sale of the company's real estate holdings in Arizona, Texas, Colorado and Utah. Harvard's products range from exclusive golf course communities to projects centered around single family production housing. Harvard's expertise includes a thorough approach to conceptualizing, designing, creating and developing each individual community with specific attention to the surrounding area needs and with respect for the environment. Over the years Mr. Krumwiede has developed solid working relationships with other developers, landowners, partners, home builder, engineers, brokers, national banks and lending institutions, politicians and lawyers.
Talking Rock Ranch, a 3,600 acre private, master-planned golf course community located in Prescott, Arizona, and a Harvard signature development, has received numerous accolades, including being recognized as the Detached Residential Project of the Year in 2008. It is consistently ranked among the top 25 courses in Arizona by Golf Digest and Golf Weekly.
Craig holds a Bachelor of Science degree in Accounting and a Juris Doctor degree from Arizona State University. After graduation he joined Deloitte & Touche as a tax specialist. He is a board member and Past President of the ASU Council for Design Excellence and a member of the Dean' s Council of 100 for the W.P. Carey School of Business at ASU. He was involved in the inception of the Masters in Real Estate Development program at ASU and is a current member of the Real Estate Advisory Board where he acts as a mentor to many of those students.
He is a Respondent to the Federal Reserve Beige Book. Craig is also a founding member of Social Venture Partners Arizona, which funds and provides expertise to innovative non-profit organizations and creates educated philanthropists.
Dave Pettigrew
President & CEO
Harvard Western Insurance
Dave Pettigrew joined Harvard in May, 2009 as the General Manager of Harvard Western Insurance, and was named President & CEO of the company in January, 2012. Dave brings to the organization extensive experience in leadership, management and business strategy from his successful 20 year career with IBM.
After five successful years leading Harvard Western Insurance, Dave also joined the senior management team of Harvard Developments in 2014. Today, Dave is responsible for formulating strategic plans for future growth, overseeing Information Technology, community relations and working alongside his colleagues to develop plans to meet future needs.
Prior to joining Harvard, Dave worked in a variety of management, sales and technical roles. Dave is a proven community leader and recently completed the role of Chair of the 101st Grey Cup Festival Committee. He has also played key leadership roles on the Board of SaskSport, Mackenzie Art Gallery, 2010 World Junior Hockey Championships, United Way of Regina and other non-profit organizations.
Dave is a graduate of the University of Saskatchewan and received his Canadian Accredited Insurance Broker (CAIB) designation in 2010.
Cam Cowie
Vice President and COO
Harvard Broadcasting
Cam convocated from the University of Saskatchewan with his Bachelor of Commerce Degree in 1981. He began his career in the field of marketing and held positions with Procter & Gamble and the Saskatchewan Roughriders before moving to broadcasting.
In 1983 Cam joined The Hill Companies as an Account Executive with CKCK Television in Regina, SK and later assumed the position of Retail Sales Manager. Throughout his career, Cam has held a number of senior management positions with multi market and multi station responsibilities throughout western Canada. In 1991, he joined Craig Media Inc. as General Sales Manager and held various titles within the organization including: Vice President Television Manitoba, Vice President Revenue Management and Sales Administration and Vice President & General Manager of Citytv Winnipeg.
Cam returned to The Hill Companies in 2008 and now serves as the Vice President & COO for Harvard Broadcasting Inc. Under this position, he manages the daily operations of the company and oversees all strategic planning and broadcast initiatives.
In addition to his corporate responsibilities Cam has served on several industry committees and boards on local and national levels including: WAB (Western Association of Broadcasters) CAB (Small Market Committee), TVB (Television Executive Committee), BBM (Television Executive Committee), and has served as the President for the Broadcasters Association of Manitoba.
Adam Aasen
President & CEO
Harvard Integrations
As Harvard Integrations' President and Chief Executive Officer, Adam Aasen brings more than 15 years of acute production management and logistics experience in the manufacturing and engineering industries. In his current role, Mr. Aasen is responsible for overseeing all manufacturing/business operations and ensuring the company's commitment to product quality, innovation and safety are being achieved. He is also responsible for charting the strategic operations of the company and has played a key role in expanding Harvard Integrations into new markets across the globe.

Mr. Aasen holds a Bachelor of Science in Mechanical Engineering from the South Dakota School of Mines & Technology. In 2016, he successfully obtained his Certified Six Sigma Green Belt (CSSGB), a testament to his keen ability to analyze and solve complex problems involved in quality improvement projects.