Harvard Investments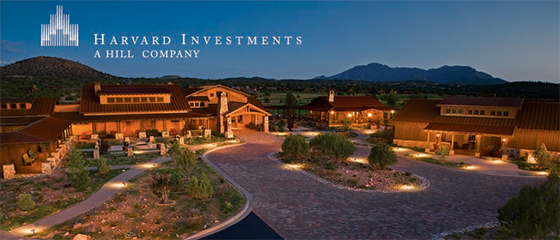 Harvard Investments, Inc. is the United States investment and development arm of The Hill Companies. Harvard has over 30 years of experience in investing and developing real estate throughout the Southwestern United States. Headquartered in Scottsdale, Arizona, Harvard specializes in diverse master-planned residential development ranging from exclusive golf-course communities to projects centered around single-family production housing. Harvard's extensive and diverse expertise is exhibited by the company's thorough approach to concept, design, creation and development of each individual project specific to surrounding area needs and future considerations.
Representative projects are located in Phoenix, Tucson, Austin, San Antonio and Dallas. While master planned residential communities, exclusive golf course communities, custom home-sites and single-family production housing sites comprise the majority of Harvard's portfolio, other projects include industrial parks, shopping centers, office buildings and multi-family properties. Their latest project, Cadence at Gateway, is a 464-acre master-planned community located in the core of Mesa, Arizona's southeast valley that includes office, commercial, and a variety of residential uses. For more information on the project visit cadenceaz.com.

Craig L. Krumwiede, President of Harvard, has been with the company since 1982. His long-term leadership is unusual in the real estate industry and is indicative of Harvard's strength. Guided by his experience and vision, the Harvard Investments' team provides superior knowledge and uncompromising dedication to excellence to create projects destined for success. This respected team has over 85 years combined experience in land planning, development, entitlement, finance, accounting and project management.

Whatever the market, high end or entry level, Harvard Investments distinguishes itself by building the finest product in that niche.