Western Surety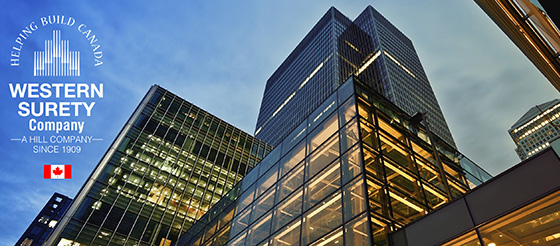 Western Surety Company is the only federally chartered insurance company that specializes in and exclusively writes contract surety bonds for the construction industry and commercial surety bonds in all provinces and territories in Canada. The Company is one of the top ten largest writers of surety bonds in Canada.
Established in 1909, Western Surety is a privately owned company with its head office in Regina, Saskatchewan and is part of The Hill Companies. Scott W. Donald is President and Chief Executive Officer and the Company's operations are governed by a Board of Directors from various business and organizations throughout Canada. Included on the Board are past Western Surety Presidents, Leo C. Ell and David C. Dykes, Vice Chairman, and Paul J. Hill, Chairman of the Board.
To supplement Western Surety's first branch office established in 2001 in Halifax, a Toronto office was opened in late 2009 – a culmination of the Company's 100th Anniversary celebrations. Western Surety employs 20 professional underwriters and is represented by approximately 250 surety brokerages throughout Canada.
NOTE: Western Surety Company is not licensed to conduct business in the USA. There is a similarly named company located in Sioux Falls, South Dakota, however it is not associated in any way. For further information on the USA based company, please visit:westernsurety.com