Harvard Broadcasting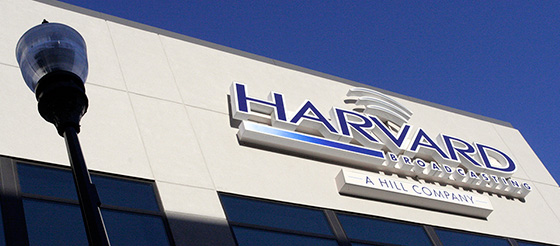 In 1981, Harvard first expanded into radio with the purchase of 620 CKRM-AM and CFMQ-FM now CHMX-FM (My92.1) in Regina, Saskatchewan.
Originally opening its doors in 1926, 620 CKRM has almost as long a history as The Hill Companies in Saskatchewan. 620 CKRM "The Source" has been the official Saskatchewan Roughrider broadcast rights holder since 1983 providing Play-by Play to Rider Nation.
In 2002, Harvard Broadcasting acquired Regina's Rock Station 104.9 The WOLF (CFWF-FM) from Craig Broadcasting. The WOLF continues to be a market leader.
The Harvard Broadcasting Regina Radio Group is currently operating from a state-of-the-art broadcasting facility located directly in the "Heart of Regina" within the re-developed Century Plaza on the corner of 12th Avenue and Rose Street.
Since 2007, Harvard Broadcasting has seen exponential growth outside of its Regina broadcast holdings.
Calgary's Alternative X92.9 (CFEX-FM) was added to Harvard Broadcasting, launching on January 1, 2007. MIX 103.7 Today's Best Music (CFVR-FM) then opened its doors January 14, 2008, introducing the Hot AC format to Fort McMurray, Alberta. Later that year, Harvard Broadcasting moved into Saskatoon, Saskatchewan with 96.3 (CFWD-FM) now broadcasting as CRUZ FM, Saskatoon's greatest hits.
Joining the Harvard Broadcasting family on September 1, 2009 was Yorkton's GX94 That's Country (CJGX-AM) and FOX FM Yorkton's Favorites Station (CFGW-FM).
In summer 2010 Harvard launched two new stations in Alberta, 100.7FM The River (now 100.7CRUZ FM), a mainstream Adult Contemporary station in Red Deer followed by 95.7CRUZ FM a greatest hits station in Edmonton. Following the launch of the Alberta stations Harvard Broadcasting has acquired three additional stations, Play 107 in Edmonton, Kraze 101.3 in Red Deer and 100.5 CRUZ in Fort McMurray.